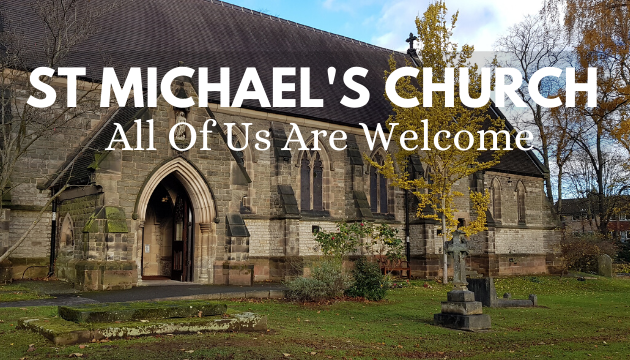 A Christian Community Where Everybody Is Welcome
"St Michael's Church is a Christian community in Boldmere, Sutton Coldfield where people of every: ability, age, capacity, ethnicity, faith, gender, neurodiversity and sexuality know that all of us are welcome.
We won't always get this right, but together we can walk the way of Jesus - which is love, grace, mercy, forgiveness, reconciliation and peace."

- Rev'd Gary Birchall
Covid-19 News

Let's Stay Together - Join Our Facebook
There has never been a better time to join the St.Michael's Facebook Group than now, where we can still be active and supportive together. We already have over 200 active church members within our Facebook group and would appreciate for you to join us there if you aren't already.
Click here or press the Facebook icon.
A Message from Rev'd Gary & Rev'd Cath
Dear People of St Michael's,
Following the announcement by the Prime Minister on Monday evening and direction from the Bishop of Birmingham received the same evening, the following now applies:
St Michael's Church will not be open for public worship or public access from Tuesday morning 24th March 2020 until further notice. The Church Hall is also closed until further notice.
No funerals will be able to take place in the Church building. Currently services can still be held in crematoria and at the graveside, as long as people adhere to social distancing.
All baptism and weddings have to be cancelled until further notice.
Rev'd Gary and Rev'd Cath will be exploring how to bring Sunday Worship to you on Sunday morning. At the moment it seems as though we will not be able to broadcast from the church.
The daily prayer videos will continue to go out on the Facebook Group.
Please continue to look out for news and contact on email, please look at the St Michael's Facebook Group for updates (join up if you are willing and able and are not already a member of the Facebook Group).
For all those who completed the Pink GDPR Data access forms and indicated they were willing to be contacted by phone, we have set up a system were everyone is contacted by someone once a week.
Please ring Rev'd Cath Walker on 07307255828 if you have any concerns, need to talk, or wish to pray.
If you wish to be added to the St Michael's WhatsApp Group please let me know your mobile phone number by email or private message. I will then add you to the group.
Yours sincerely,
Rev'd Gary Birchall / Rev'd Cath Walker
New Reflection Audio Calls
We now have a new audio feed available for Sunday reflection, Wednesday reflection, and Thursday Holy Spirit reflection.
This can be accessed directly through your phone (home or mobile) so no internet is required! You can listen simply by making a call.
To access, call 0330 606 0404 and when prompted input our access code 351 74 10#
Then choose which reflection service you would like to hear when prompted by inputting the reference number of 1# for Sunday Reflection, #2 for Wednesday Reflection or 3# for Thursday Reflection.
New audio feeds are available after 6pm on each day and are charged are at your provider's standard minutes rate.
Please pass on to anyone who is not Facebook-connected and who would like to share these reflections. Please see Facebook for children's and youth activities.
Worship at St Michael's Church

Sunday Services

9:00AM Holy Communion Service

10:30AM Worship for All Service

with Children's Groups During Term Time
with Holy Communion Last Sunday of the Month

6.00pm Evening Worship/Night Prayer
with Holy Communion & Anointing 2nd Sunday of the Month

Wednesday Services

10:00AM Holy Communion Service
Quick View Links
Parish Magazine
The latest edition of the Parish Magazine for July 2020 is now available!
You may download and view the magazine as a PDF.
View the Parish Magazine. (opens in a new tab)